Click on the following links to learn more about our partner organizations
The upper part of the MacIntosh Run begins at the outflow from Long lake and goes through residential neighbourhoods. The lower part goes through the backlands and flows into the sea at Herring Cove. The Association has built an active transportation trail alongside the upper part of the run. They envisage extending the trail the entire length of the run, including a wilderness trail which would be "a rugged trail across the backlands to Herring Cove; the trail will be varied, in some places climbing along bedrock ridges, and in other places hugging the river's edge."
We are a coalition of non-governmental groups. Our mission is to ensure no loss of wildlife habitat in the Backlands and to preserve them for natural, historical, cultural, conservation, educational, recreational and common use.  The Backlands, located only a few kilometers from from peninsular Halifax (Nova Scotia),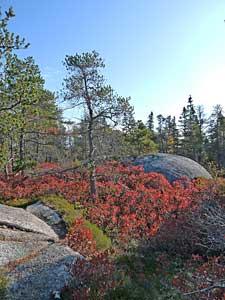 are a Thompsonesque urban wilderness of approximately 1350 hectares which include nine lakes, hills with spectacular views and dozens of kilometers of informal hiking and biking trails.
Williams Lake, Purcell's Cove and the "Backlands" together are one of five development HotSpots in HRM which exemplify how their Greenbelting Solution would help preserve natural areas, save the Municipality money and maintain recreational and cultural uses. For an update on the Sewer and Water issue, see City sinks Purcells Cove water plan.
"The Purcell's Cove Neighbourhood Committee (PCNC) exists to promote community development in our neighbourhood. This website gives us a way to share information." Their Submission of July 13, 2013 provides an overview of who they are and why they want to protect the backlands.
This link is to a page on the Halifax Field Naturalists (HFN) website. The Purcells Cove Conservation Lands, administered by the Nova Scotia Nature Trust, are the only formally protected lands in the Purcell's Backlands.