Public Engagement, Halifax Green Network Plan
(NOTE: Please see update where June 8 has now been rescheduled for June 12 at a different venue.)
The Halifax Regional Municipality is conducting the third and final phase of public engagement for the Halifax Green Network Plan, a decision-making framework for the conservation of a region-wide network of open space. A number of planning and implementation directions have been drafted using public input and study results from the earlier phases of work and are contained in the newly released Halifax Green Network Plan Primer Report. More information on the Halifax Green Network Plan is available online at www.halifax.ca/HalifaxGreenNetwork.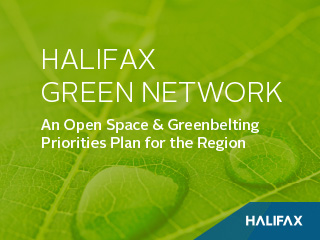 Public engagement for this phase will be launched with a series of public meetings across HRM and online engagement. Input from the public will help refine the planning directions and develop more detailed recommendations and actions for the final Plan. Once approved, the Halifax Green Network Plan will guide the Municipality and landowners in determining where and how open space should be conserved for multiple environmental, social, cultural and economic benefits including:
Ecosystems & Biodiversity
Working Landscapes
Recreation and Trails
Community Shaping, and
Cultural Landscapes
The  public meetings across the Region start next week in Dartmouth and will include a presentation of the work to date followed by a Q&A period and interactive open house session.
The following meetings are being held (see May 16, 6:00pm-8:00pm):
HOLLY RICHARDSON
ENERGY AND ENVIRONMENT ACTING PROGRAM MANAGER
PLANNING AND DEVELOPMENT | REGIONAL PLANNING
HΛLIFΛX
PO BOX 1749
HALIFAX NS B3J 3A5
T. 902.490.3665
C. 902.818.8430
F. 902.490.4346
halifax.ca
Date
Time
Location

May 15

6:00 – 8:00 pm

NSCC Waterfront Campus (Presentation Theatre)

80 Mawiomi Place, Dartmouth

May 16       
6:00 – 8:00 pm
Atlantica Hotel Halifax (Guild Hall) 1980 Robie Street

May 17

6:00 – 8:00 pm

Ecole Secondaire du Sommet (Auditorium) – 500 Larry Uteck Boulevard, Halifax

May 29

7:00 – 9:00 pm

Eastern Shore District High School, 35 West Petpeswick Road, Musquodoboit Harbour

May 31

6:00 – 8:00 pm

Tantallon Public Library, 3646 Hammonds Plains Road

June 07

6:00 – 8:00pm

Musquodoboit Valley Bicentennial Theatre & Cultural Centre, 12390 Hwy 224, Middle Musquodboit

June 08

6:00 – 8:00pm

Rescheduled to June 12:

Sheet Harbour Lions Club, 183 Pool Rd, Sheet Harbour
June 12


6:00 – 8:00pm

Old School Community Gathering Place,  7962 Highway #7, Musquodoboit Harbour
Public Engagement, Halifax Green Network Plan