The Williams Lake Watershed
Which way does the water flow?  Follow the arrows.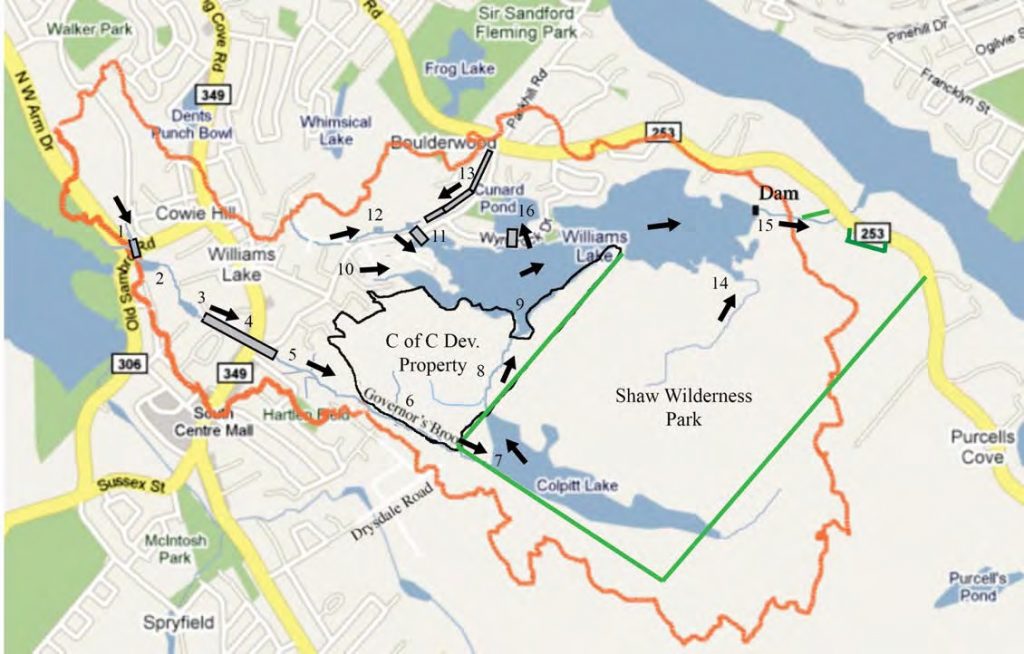 Which way does the water flow? The Williams Lake Watershed is surprisingly extensive, reaching from far north along Dunbrack Street (formerly Northwest Arm Drive), west and south into Spryfield, and beyond the Shaw Wilderness Park on the south and east end of the lake.
Key sources of water are shown with arrows indicating the direction of water flow. Water courses directed through culverts/underground pipes are indicated with grey rectangles.
Multiple significant housing developments have been built in the Williams Lake Watershed in the past 20 years, many of which have altered natural water courses. Others are proposed.
Red Line: The boundary of the Williams Lake Watershed, indicates the land where precipitation would normally be fed towards Williams Lake through streams and other water bodies and by percolating through the ground.
Black Lines: The lands owned by the Church of Christ Development Corporation recently removed from the real-estate market.
Green Lines:  Shaw Wilderness Park.
Tipping Point! A tipping point has been reached. Any further development would likely push Williams Lake past its capacity to survive as a lake.
For further details on the Williams Lake watershed see the 2020 Water Flow Report
Which Way Does the Water Flow?