We thought you might be interested in seeing how the current level of Williams Lake compares to the level at this time in the previous 5 summers. You won't be surprised that this is the highest level ever recorded in August (years 2002-2023). For additional watershed data click here.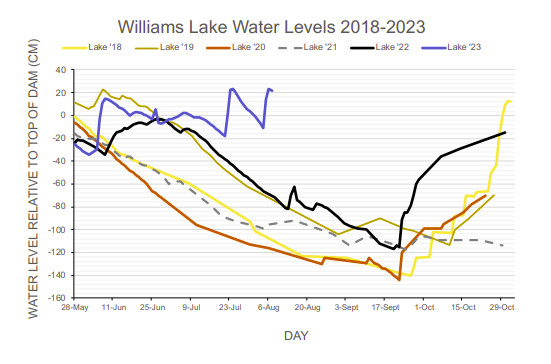 Water samples were taken from our three usual sites (one in Colpitt Lake near the Governor's Brook inflow and the other two either end of Williams Lake) two weeks ago before the second deluge and took them to the testing lab in Bedford. It will be interesting to see if there are any marked differences from previous years given the much higher rainfall we have received.
Potential traces of blue green algae have been reported at the dam but appear to dissapate a day or so later due to huge volume of water moving over the dam and down the spillway outlet after heavy rains.
Lifeguards at Cunard beach have said water samples taken there on July 31st had come back positive for blue-green algae so that beach would be closed for the time being (we have not received an update on beach opening since mid August).
Williams Lake August water levels hightest in years