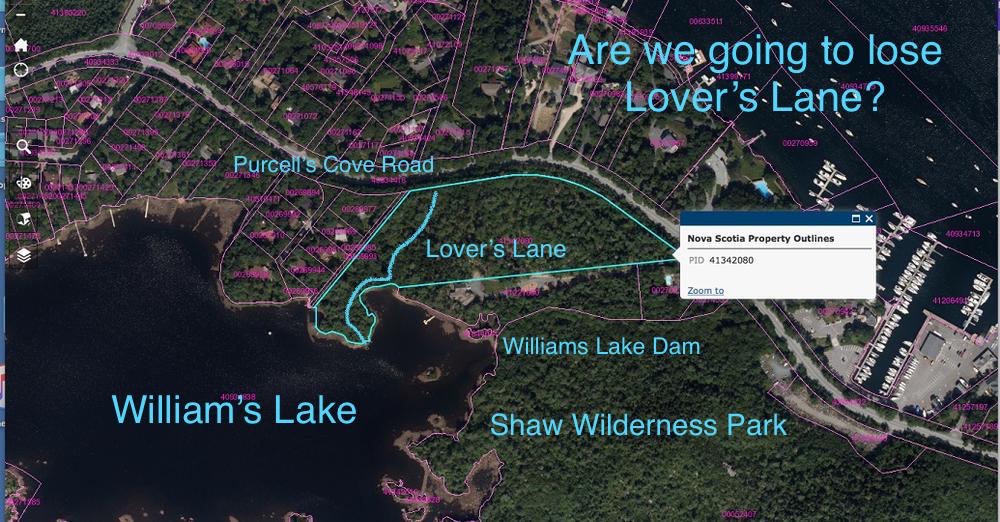 Conservationists and Developers
by Cathy Vaughan
[Reprinted with permission. Chebucto News – July 2022]
Williams Lake Conservation Company (WLCC) has a long history of trying to work with developers who want to build on lands in the Williams Lake watershed which surrounds the small Spryfield lake. As caretakers of the lake since 1968, WLCC has fought, negotiated and consulted with developers to maximize public access to recreation on the lake, to mitigate any negative environmental impact, to protect water courses that filter pollutants from the lake and to provide their substantial expertise in conservation and environmental science to protect Williams Lake. Some of their efforts have been successful.
"Creating public access to Williams Lake is a top priority for the WLCC," says conservation advocate Kathleen Hall, a longtime member of the board of directors. "That is why we are currently following a recent request for zoning change on a 9.4-acre parcel of land on Purcell's Cove Road that would potentially close an historically significant and well-used path, 'Lover's Lane,' that leads to the shores of Williams Lake. This is an opportunity to work with the developer to preserve this culturally significant path through the HRM "Park Designation" by-law and we are asking to meet with the developer."
"Park Designation" is an HRM by-law to obtain land from a developer to encourage them to protect public access by deeding parcels of their land to the city for parks for people. According to the Halifax Regional Subdivision Bylaw, Section 82 and 83, developers can deed parcels of their land to HRM to be used as public "parks" allowing the community to continue to use routes through the land to be developed. Unfortunately, this by-law is often not taken advantage of by developers as the municipality can also accept 'cash-in-lieu.' The park by-law is often not invoked early enough in the development process to ensure that land is secure for public use, particularly when it is close to or on a body of water.
"HRM has asked WLCC for information about this particular 9.4-acre parcel on Williams Lake because we know the land well, have scientific and conservation expertise and understand the community's stake in any changes in this unique land," said Martha Leary a member of the board of directors of WLCC. "A traditional path, called Lover's Lane, to the lake goes across these lands. The path provides access to swimming in the summer and skating in the winter. Especially during our hot summers, hundreds of people from all parts of Halifax use this path to get to Williams Lake to seek comfort in the cooling waters. As a part of any rezoning agreement, it should be possible for HRM to retain the use of this path for the public."
Leary submitted documentation to HRM that addressed WLCC's environmental concerns such as "preventing the substantial loss of old growth forest of huge, 200-year-old hemlocks; the importance of non-interference with the vernal ponds and rigorous protection of the several watercourses that are important sources of water for the lake."
"We are also seriously concerned about the impact on the health of the lake of development on the shoreline. The lake is at a tipping point now with so many builds in its watershed and cannot sustain further disturbance to the wetlands and peatlands on its shoreline," states Leary.
Historical Researcher and local resident Iris Shea knows the documented stories of the use of Williams Lake from the 1800s. "This path (Lover's Lane) has been used by multiple generations of families from the city, surrounding communities and villages. Generations of local residents, the Jollimore and Boutilier families, dating back to the first permanent settlers of European descendants, on the western side of the Northwest Arm in 1827 used this path to Williams Lake. They can't possibly close this old path after so many years of use by so many people," says Shea.
An example of a successful application of this "park dedication" by-law is the Pine Bluff Islands Park on Williams Lake on Wyndrock Drive. These islands contain heritage paths, picnic spots and swimming areas that have been used for 100's of years by multi-generations of families from the surrounding villages and communities. These islands were deeded to the city by the developer of the Pine Bluff subdivision on Williams Lake and protect traditional access to this recreational lake.
This community entrance to Williams Lake is also a companion park to the popular HRM recreational park on Cunard Pond on Williams Lake, which features a supervised sandy beach, tennis court, volley ball pit, two baseball pitches and grassed picnic areas. This combination of two parks provides residents with access to Williams Lake for fun all year.
Williams Lake also has four HRM public park entrances for all-season recreational activities. The Acorn Road Park non-motorized boat launch, Williams Lake Beach, Pine Bluff Islands Park and the Shaw Wilderness Park provide the surrounding communities and HRM with convenient access to wilderness and recreational activities all year.
Conservation groups, citizen-action organizations, home-owner associations, nature coalitions, and taxpayers want a say in how their communities should look and function. With the environment being a controversial issue, the need for access to nature and a voice in the development process is critical. Consultation needs to be part of shaping our path forward for our communities.
WLCC's president, Murray Coolican, summarized the group's sentiments on the potential loss of this path with these questions and a suggestion. "This path is a heritage trail that has been part of our community for generations. Do you want this path to the lake kept open to the public? Do you want to save 200-year-old hemlocks? Do you want to keep this access to Williams Lake open? Then e-mail your local councillor and ask them to help HRM save this path!"
---
Learn more:
Conservationists and Developers