PRESS RELEASE
For Immediate Release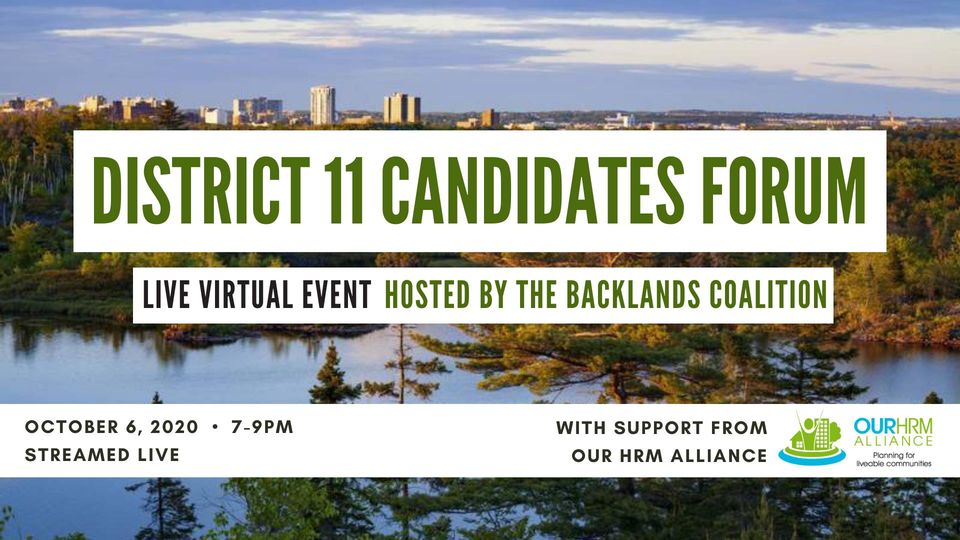 District 11 Candidates Forum 2020 Virtual Event
Halifax, NS, September 30, 2020 – In anticipation of the upcoming Halifax election on October 17, a District 11 Candidates Forum, hosted by the Backlands Coalition and Our HRM Alliance, will be streamed live on Wednesday, October 6th, 7:00-9:00 pm, on the Our HRM Alliance ("Our HRM Alliance") Facebook page and YouTube channel. The majority of District 11 candidates will be participating. The forum will be moderated by Paul Cashman, an original member and coordinator of the Backlands Coalition and member of the Williams Lake Conservation Company. This is a free virtual event. For more information and links, visit: facebook.com/OurHRMAlliance.
"This forum is a partnership between the Backlands Coalition and Our HRM Alliance, which collectively represent over 70 member organizations across Halifax Regional Municipality," said Meredith Baldwin, on behalf of Our HRM Alliance. "District 11 houses the majority of the Purcell's Cove Backlands, an essential part of Halifax's Green Network. We knew it was important to bring focus to the issues affecting the area including plans for future land use, stewardship, and management of the ecological corridors in the Backlands."
Part of the Purcell's Cove Backlands was recently acquired by Halifax Regional Municipality to form Halifax's first urban wilderness park, the Shaw Wilderness Park. However, the area still faces threats. Most recently, the intended sale of three parcels of land near William's Lake raised concerns from the community.
"The forum is an opportunity for the public to understand the candidates' priorities and plans for the Purcell's Cove Backlands and what steps they will take to protect one of the city's most valuable places," said Kathleen Hall, Chair of the Backlands Coalition. "Our councillor can set a vision and provide guidance to address the unique issues that our citizens will face through the coming years."
The forum will allow candidates the opportunity to discuss and debate their views. The public will be able to submit questions live via Facebook or ahead of time via email. The public will be able to watch the forum without an account on YouTube. An account will be required to watch and submit questions on Facebook.
Kathleen Hall, Backlands Coalition
Meredith Baldwin, Our HRM Alliance
District 11 Candidates Forum to be hosted by Backlands Coalition